Rock Star Platforms by Jeffrey Campbell - $195.00 at Nastygal.com
I've been wanting to actually purchase some of these floating Gaga/Guinness-esque platforms for quite sometime, and I think these might be the ones! The metallics and patent leather makes this shoe an ease to drift back and forth between rock n' roll, disco and glam depending how you dress it.
As for my LUST...
LUST: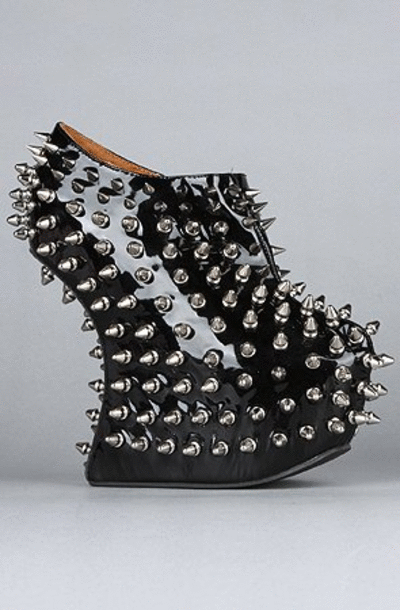 The Shadow and Spike Bootie by Jeffrey Campbell - $264.00 at Karmaloop.com
I had to, I just had to. Look at this mess of spikes that's a certain rip-off of previously featured Japanese shoe artist (what he does is truly an art)
Noritaka Tatehana
. But the little goth teenager in me screams and my wallet starts to shake in fear! I like the patent version as opposed to the regular black leather version because with a design like this, you might as well go ALL THE WAY. I would strongly advise to not wear these with a maxi dress/skirt or long flowy pants since they're bound to get shredded--on the other hand that might be a cool look!
Ooo, experimenting with animated gifs, I like! Leave a comment if these seem a bit too much. :)